Page Setup
The File | Page Setup dialog gives the user precise control over printing details.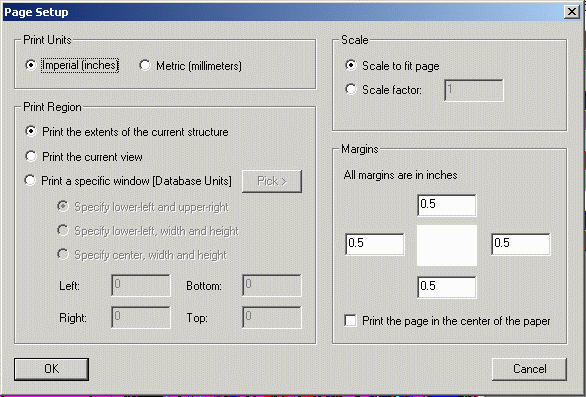 Print Units
Inches or MM - select the units of the page dimensions. This is needed to interpret the margin values.
Print Region
This section gives the user control over which region of the layout is to be printed.
Print Extents - the program prints the extents of the current open structure -- even if your display is zoomed in.

Print Current View - The plot will consist of the data currently showing in the display window.

Print Specific Window - The user specifies the layout region to plot by either using the mouse or by entering the exact coordinates into the appropriate fields. When entering coordinates one uses the layout coordinates and the layout database units.
Margins
Margins - Define the page margins on the left/top/right/bottom.

Print at Center of Paper - Centers the plot on the page based on the margin settings.
Scale
The user can choose to allow the printer driver to compute the scale that fits the plot region to the available page region or can request a specific scale factor. If the user selects the scale factor, it is possible that the resulting plot area may not fit on the page and that data will be lost beyond the edge of the page.