MECHVU for Windows
ME-10 Viewer/Plotter/Translator for Windows
Product End of Life
Effective July 1, 2008 Artwork has stopped development on all ME-10 related translators and viewers. New orders will only be accepted for the current versions and no support contracts will be accepted for new orders and no support contracts will be renewed.
Description
MECHVU for Windows is an easy to use utility that views and plots ME-10's MI file format. The program includes translators to DXF and IGES so that data can be easily exchanged with other CAD programs
Features
Runs on all Windows versions
Easy to use Interface
New Support for Binary and ASCII MI Format!
Floating Network License for Workgroups
Excellent Support for Text and Dimensioning
Plot to Laserjet and Postscript devices
The Opening Menu
Double clicking on the icon will start up the program and present the user with the opening menu. From this menu you can select the MI file and the option to view or translate the it.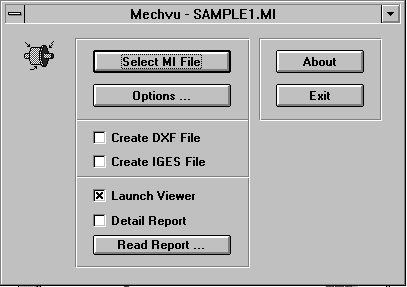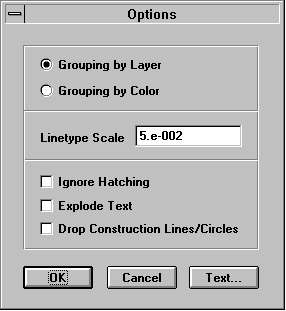 Options
You can change program options from this menu




MECHVU lets you choose between grouping all entities that share a common color or grouping all entities that share a common layer level.
Linetype scaling lets you adjust the display of dashed and dotted lines to look good at your screen's reolution.
The Mechvu Display Window
If you choose to display the MI file MECHVU will open a new window where you can view the data. Form this window one can pan, zoom in, zoom out, measure data points and create plots.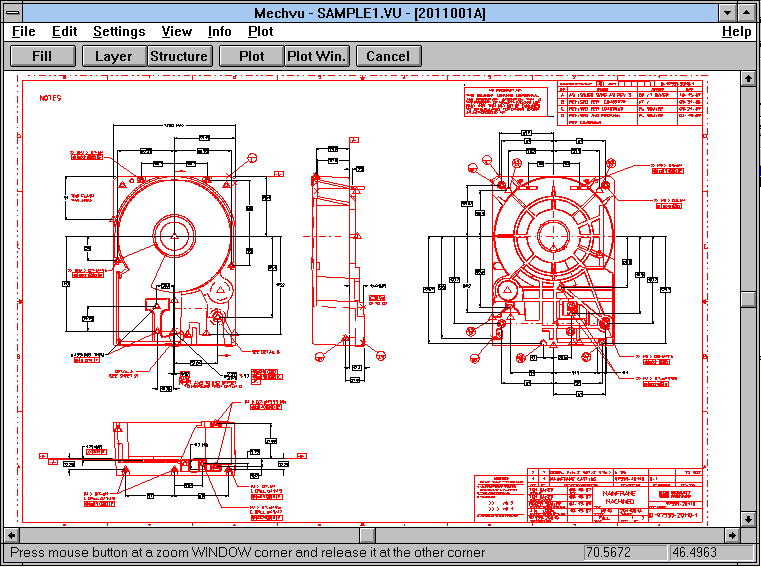 Fill - toggles fill on/off for elements that support fill.

Layer - opens a layer menu to turn layers on or off.

Structure - opens a list of ME-10 parts - select the part to view

Plot - starts plot of display

Plot Win. - starts plot of user specified window

Cancel - stopsplot
Viewing Parts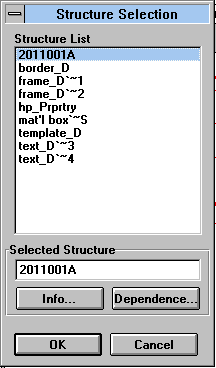 MECHVU enables the user to examine the list of parts in a drawing, determine the hierarchy of the drawing, and also view a particular part. This is very useful for complicated assemblies that include many part definitions.MECHVU calls ME-10 parts "structures"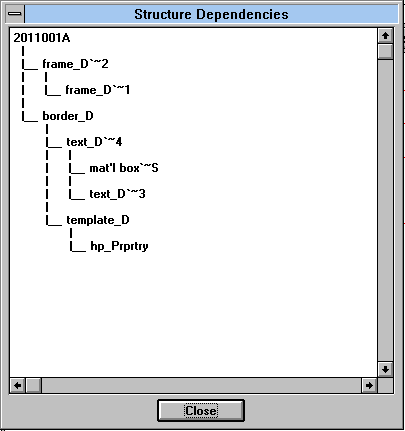 The dependence Window
The designer can easily examine the hierarchy of the drawing from this window.
Text and Fonts
Mechvu does an excellent job of matching the ME-10 fonts; we've built custom fonts for our viewer that match the ME-10 symbol font. See the screen shot below: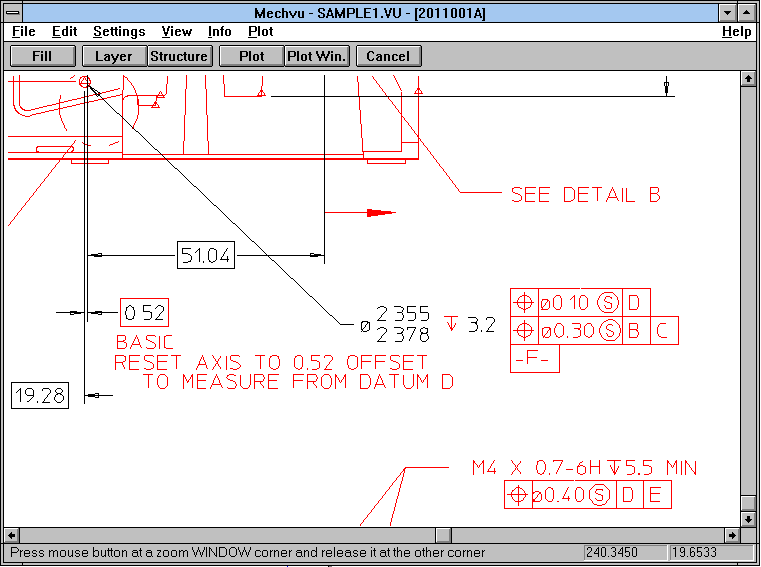 System Requirements

Windows
32 MB RAM
CPU 486-66 or better
800x600 Display with 256 colors
On Line HTML Manuals
Chapter 1 Intro to Mechvu for Windows
Chapter 3 Running Mechvu for Windows
Chapter 4 Printing and Plotting

On Line PDF Manuals
mechvuw.pdf PDF 243KB 30 pages