DocGen is an AutoCAD based application that is intended to reduce the amount of time required to document a BGA substrate. After the BGA design is complete a documentation package, normally consisting of 4-12 sheets, is created that defines the specifications, tolerances, materials and dimensions. This package can take several hours to produce and is one of the limiting factors in fast-turn around of BGA designs.
Artwork originally developed DocGen in cooperation with Amkor Electronics to address this particular bottleneck in the design flow. Instead of requiring an AutoCAD drafter several hours to update the document package for each new BGA substrate design, DocGen presents the drafter with some simple dialog boxes. After properly filling in the dialog boxes DocGen generates the entire drawing automatically using a combination of master drawing templates, user input and technology files.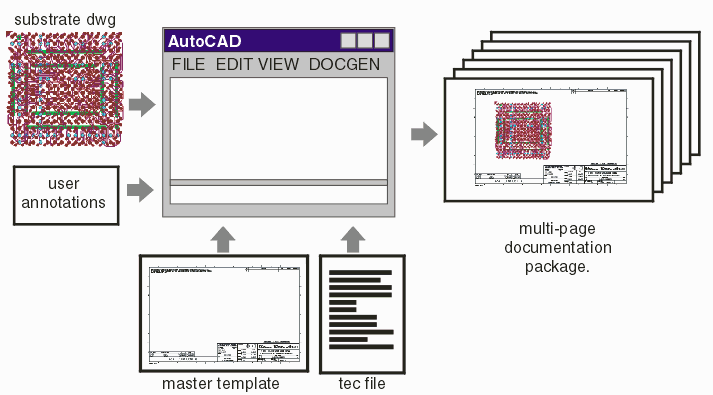 Since our intial work with Amkor we have delivered DocGen to several large package fabrication and assembly houses.
DocGen is customized to match each manufacturer's existing documentation drawings and styles. DocGen does not require a company to change the "look and feel" or the content of their documentation drawings.
DocGen launches from an AutoCAD pull down menu.

DocGen's Main Dialog enables the user to select the type of technology ( in this case FBGA), the size of the package (16x16) and the number of conductor layers (2).

The user also enters the drawing name, customer ID and other information to appear in the documentation package.

By selecting the appropriate substrate dwg file to document and the appropriate technology file, DocGen enables the use to quickly generate a multi-page package in seconds.