For Immediate Release
April 10, 2002
Santa Cruz, CA - Artwork Conversion is offering free of charge a Windows-based AIF viewer.
AIFVU reads the AIF 2.0 file format used for exchanging package design information and displays the package layout on screen. This enables chip and package designers to quickly view and verify the correctness of an AIF file before further processing.
The AIF File format is a simple ASCII database developed over the last two years by Artwork in cooperation with several large package OEMs and EDA companies. It describes the die, bond fingers, rings, wires, netlist and balls for a typical BGA style package. Artwork has put the AIF file format into the public domain so that any user or software developer can create tools to read and write the format.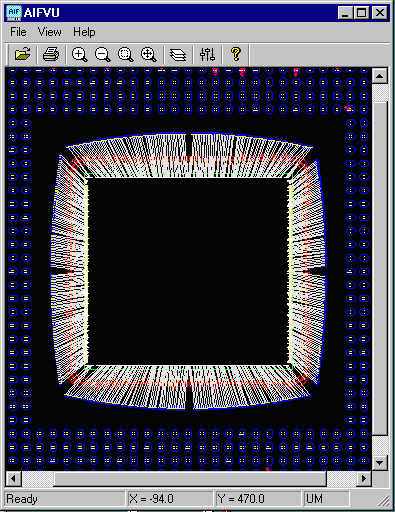 The viewer is freely downloadable from Artwork's WEB site at:

www.artwork.com/package/aifvu/index.htm
The viewer runs on Windows NT, Windows 2000 and Windows XP.
Enhancements are being made to the viewer on a regular basis. AIFVU is the basic framework for a more advanced product to be released in the next few months that will include die IO planning, wirebonding and import/export functions.