For Immediate Release
November 7, 2001
Santa Cruz, CA - Cadence Design Systems has entered into an agreement with Artwork Conversion Software to incorporate Artwork's AIF translators into the next release of Cadence's Advanced Package Designer (APD). APD users who upgrade to the 14.2 release will have AIF read and write capability.
This will enable packaging engineers to easily transfer basic information about the package to other CAD tools and to the die designers.
The AIF File format is a simple ASCII database developed over the last two years by Artwork in cooperation with several large package OEMs and EDA companies. It describes the die, bond fingers, rings, wires, netlist and balls for a typical BGA style package. Artwork has put the AIF file format into the public domain so that any user or software developer can create tools to read and write the format.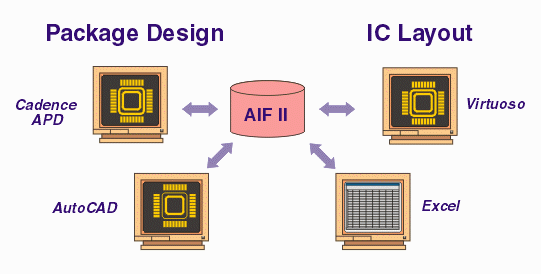 Artwork has developed several tools to import and export AIF from AutoCAD - making the AIF format very useful for package documentation and for package protoyping. A new translator, ReadAIF, imports AIF directly into Cadence Virtuoso enabling IC designers to visualize the wires, bondfingers, rings and balls in their own environment.