For Immediate Release
April 25, 2003
Santa Cruz, CA - Artwork Conversion has signed an OEM agreement with KLA-Tencor where K-T will resell a specialized version of Artwork's Qckvu program. Qckvu reads and displays very large GDSII or MEBES files; the special version will include a module for selecting a window and exporting data contained in the window to PROLITH's mask file format. This data will be used to simulate the lithography process from mask to wafer.
Qckvu was selected by K-T because of its ability to load very large files quickly. As circuit dimensions shrink, the size of the GDSII and MEBES file used to produce masks increases. Unless a tool has been optimized to load such large files, it will either require hours to load or will fail by running out of memory.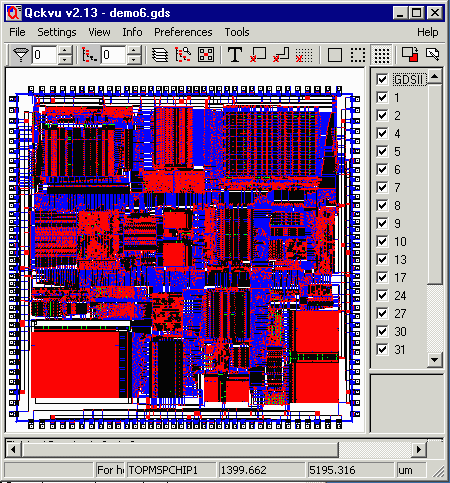 Screen shot of large GDSII database. Qckvu loads and displays such files very quickly and can zoom in on a small region in seconds. Once zoomed in, a mask engineer can extract just the geometries needed to do a lithography simulation on a critical region.
Mask designers will be able to zoom in and extract data for simulation much faster using the new Qckvu for PROLITH.
Qckvu for PROLITH will be available at the end of May 2003. It will be distributed directly from KLA-Tencor. PROLITH users should contact KT for price and delivery.