Artwork Releases Lightweight DRC for Package Designers
Santa Cruz, CA - Artwork Conversion announces the release of our Lightweight DRC.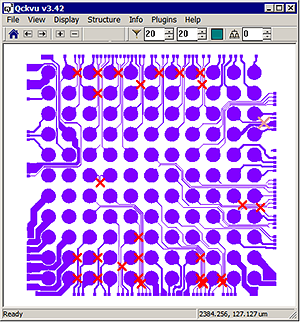 This is a specialized tool for those who work in the IC package design industry - in particular those responsible for the design of ball grid array substrates (BGA), redistribution layers (RDL) and multichip modules (MCM). It reads package layout data in GDSII and performs several simple but essential design rule checks.
We developed this tool at the request of a major OSAT house who regularly received layout data in GDSII from their customers. While the OSAT uses modern package design software that incorporates DRC, these customer provided layouts could not be imported into the design software for DRC. Therefore Artwork was asked to develop a lightweight DRC software that could verify that the incoming layouts met the minimum requirements for fabrication.