For Immediate Release December 10, 1995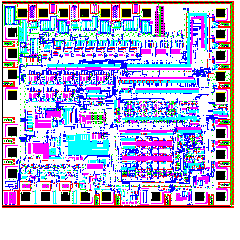 Artwork Adds Parallel Processing to GDSPLOT Plotting Software
Artwork Conversion has entered into a strategic development agreement with Myrias Computer Technologies of Edmonton, Canada to create a parallel processing version of our GDSPLOT IC plotting program using PAMS (Parallel Application Management Systems.)
"GDSPLOT is going parallel to address the plotting needs of designers working on microprocessors, graphics, DSP and compression chips containing more than one million devices." said Steve DiBartolomeo, president of Artwork. "We had focused on the low and middle end market and left high end plotting on electrostatics to the existing vendors - Cadence, Mentor and Pinebush. I got tired of turning away potential customers and decided to see if we could offer a new price/performance point at the high end. The Myrias toolkit enabled us to bring a parallel processing version to market quickly and easily."
GDSPLOT/4M will ship in February 1996 for the Sun Sparc 20 SMP architecture. Additional versions for Solaris, HPUX and Windows NT will follow later in the year. It will support HP and Calcomp inkjet plotters and Xerox Versatec, Raster Graphics and Calcomp electrostatic plotters.

"While the PAMS toolkit supports the use of a large number of networked CPUs in principle, our profiling shows that maximum return is achieved when running with CPUs sharing a common pool of memory. Because the rasterization process consists of few computations on enormous amounts of data even very fast networks are bandwidth limited." said Antonio Morawski, director of development at Artwork.
Final pricing has not been determined but will fall between $10,000 and $15,000 for a version that supports up to 8 processors.
---
For more information about PAMS contact:
Myrias Computer Technologies, Inc.
8522 Davies Road, Edmonton, Alberta T6E 4Y5
Canada
Tel 403-463-1337 Fax 465-0130
email: info@myrias.com info@myrias.com
WEB: http://www.myrias.com
attn: Don Gunning or Wayne Karpoff
---
For more information about the 4M version of GDSPLOT contact Steve DiBartolomeo stevedb@artwork.com

---
Artwork Conversion Software, Inc. [Company Profile]
417 Ingalls St., Santa Cruz, CA 95060
Tel (831) 426-6163 Fax (831) 426-2824
email: webmaster@artwork.com
---
Return to Artwork's Home Page