Santa Cruz, Ca. -Artwork Conversion Software, Inc. announces it is shipping Qckvu, a high speed IC layout viewer. Qckvu is available for Solaris and HP-UX workstations and will be available on Windows NT in February 2001.

Qckvu is needed by designers of complex devices such as microprocessors and graphics chips who must view designs with millions of transistors.

Qckvu has been optimized to quickly load databases in the multi GB range - once loaded Qckvuís highly optimized display algorithms display millions of polygons in seconds. Users can view multi-gigabyte IC databases in minutes rather than hours.

Users have full control over which layers to display, over the layer colors and fill patterns. Up to 1024 layers are supported. Users can select any structure to view and also control the depth of the hierarchy to view. GDSII Datatypes can be used to control display of entities.

Critical dimensions are easily measured.

Pricing and Availability

Qckvu is available for immediate shipment on Solaris and HPUX; the price of a single node-locked license is $4995.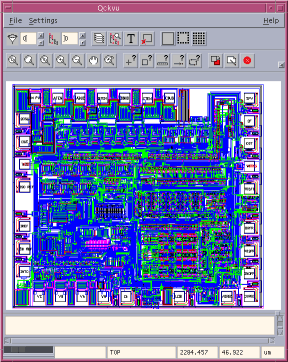 Qckvuís modern interface makes it easy to navigate through the GDSII stream file.

For more information, please contact:

Steve DiBartolomeo
Artwork Conversion Software, Inc.
T. (831) 426-6163 F (831) 426-2824
email:info@artwork.com