For Immediate Release
September 15, 2003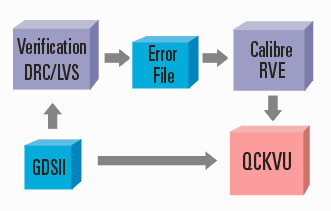 Santa Cruz, CA - Artwork Conversion has added an interface from our high speed GDSII viewer, Qckvu, to Mentor Graphic's Calibre RVE. RVE is used to navigate through error files generated by Calibre's DRC/LVS. RVE supports error files from Cadence and Synopsis DRC tools as well as its own native error files making it a popular tool no matter which verification suite a design team uses.
How it Works
Each time a chip designer "clicks" on an error in Calibre RVE, a message is sent to Qckvu telling Qckvu where the error is located in the GDSII layout data and how to highlight the error. Since the GDSII file can be extremely large, the speed with which DRC errors can be viewed is often limited by the GDSII viewer.
Cost Effective
Immediately prior to tapeout the final verification runs are done on the chip layout. Hundreds or thousands of errors may be flagged - errors that are not apparent until the various modules are routed together. The design team works non-stop, first to identify the nature of the problem and then to either correct it or possibly to determine if the error is a false one and can be safely ignored.
Using Qckvu at this stage can be extremely cost effective. IC layout tools are not optimized for fast loading of GDSII files and may require hours to load the very large files where Qckvu can load the same file in minutes. The cost per seat of an IC layout tool is 5 to 10 times the cost of a Qckvu license.
Pricing and Availability
Qckvu is available on Solaris, HPUX and Linux for $5750 (a perpetual network floating license) and the RVE interface is an additional $1000 option. Companies that need a large number of licenses for a limited period of time should contact Artwork for a quote.
For more Information
Hagai Pettel
Sales Manager
hagai@artwork.com
(831) 426-6163
The website for Qckvu/RVE is:
http://www.artwork.com/gdsii/qcvku/rve/index.htm