Artwork Adds Versatec Support to GDSPLOT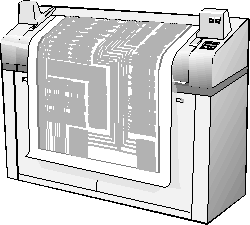 ---
Artwork Conversion has added Xerox Versatec electrostatic color plotting support to our GDSPLOT and GBRPLOT plotting software. This optional driver supports all color and monochrome Versatec plotters via the "Greensheet" raster format. Even plotters with no RPM controller are supported. This completes support for the major inkjet and electrostatic formats: HP, Calcomp, Raster Graphics and Versatec.
Features
Any width plotter from 11 inches to 44 inches
Any length plot up to the plotter's maximum
Supports Color and Monochrome plotters
200 or 400 dpi plots
Keeps raster compressed until last minute to minimize disk requirements.
extremely fast rasterization on Sun and HP workstations.

How it Works

GDSPLOT processes the data as usual - only the last module, the raster formatter is new. Plots are separated into four color planes - Black, Yellow, Cyan and Magenta. The bitmap for each plane is stored compressed - the output spooler includes a filter that uncompresses the raster data on the fly.
Price and Configuration
The Versatec color format adds $3000 to the price of GDSPLOT bringing GDSPLOT/Versa to $4995. You also get our GDSVU viewing program and the Versatec output enables you to plot directly from GDSVU to the plotter.
---
Artwork Conversion Software, Inc. [Company Profile]
417 Ingalls St., Santa Cruz, CA 95060
Tel (831) 426-6163 Fax (831) 426-2824
email: webmaster@artwork.com



---
Top of this document | | Return to Artwork's Home Page