Introduction
GDS RIP is a library that rasterizes GDSII files at very high resolutions. It is built as a static library designed to be linked into the user's main program. Gdsriplib is multi-threaded increasing throughput on CPUs that support hyper threading or on multiple CPUs that share a common pool of memory.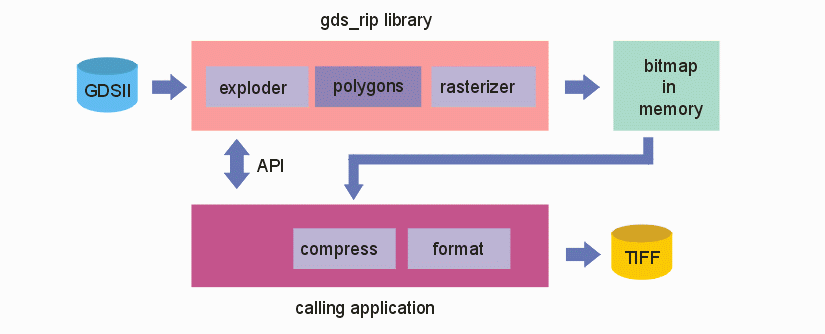 Block diagram of GDS RIP operation.
Summary of Flow
The GDSII stream file is loaded into memory and compressed on-the-fly as it is loaded.

The layout data is exploded and a stream of polygons are extracted based on the window of interest.

The rasterizer converts the polygons into a bitmap which is held in RAM. When complete, the function returns a pointer to the calling application which can then access the bitmap and perform some action on it - typically formatting and or compressing it.



GDS2TIFF Application
For non programmers who wish to rasterize GDSII data at a high resolution we include the application known as GDS2TIFF. This can be run from either the command line (on Linux/Windows) or from a GUI (Windows only.)
Grayscale Output Option
Some mask writers have the ability to modulate the power or beam intensity on a pixel-by-pixel basis. These machines can take advantage of grey scale input in order to generate smoother edges at the same resolution (or use a lower resolution and maintain edge smoothness. Details
Programmers Corner

Links to details of how the RIP library works and how it can be called by an application






Benchmarks

We include a couple of benchmarks to show the performance of GDS_RIP.