Converting from Raw Bitmap to DMD Scan Frames
Rotating the DMD slightly requires a massive amount of bitmap computations in order to supply it with the correct input. Let's assume that we have already computed our complete bitmap for the panel which we previously saw required 38GB of uncompressed space (we are certainly storing it on disk in compressed format)
As the DMD is "scanned" across the panel (or the panel is scrolled across a fixed DMD) it needs to be provided with a large number of 1024 x 768 bitmaps.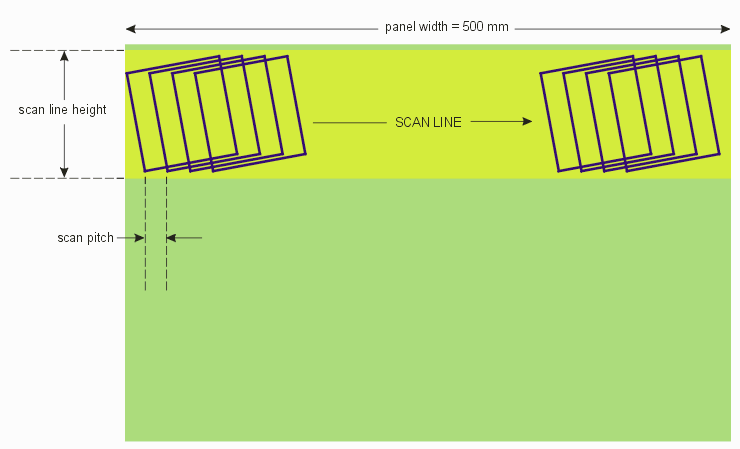 How much of the source bitmap do we need to load into our processor's memory in order to generate these frames?
To do this computation let's make the following reasonable assumptions:

frame = 1024 x 768
projected spot pitch = 89
pixel grid = 1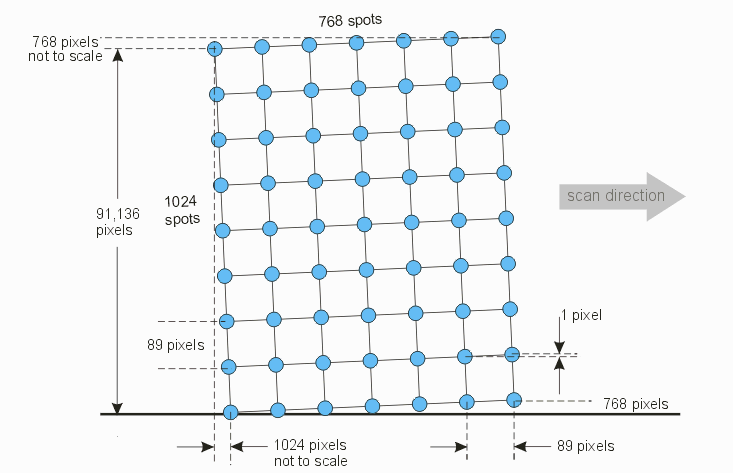 The "height" of our input bitmap in the vertical direction is going to be:
(89 x 1024) + 768 = 91,904 pixels.
If our panel is 500 mm wide and we have 1 um pixel size then the width of our input bitmap will be:
500 mm x 1000 pixels/mm = 500,000 pixels.
Multiplying the height x width and divide by 8 to get bytes requires:
91,904 x 500,000 / 8 = 5.75 GByte
How many frames per scan line?
This will depend on a parameter we call the scan pitch. Values can range anywhere from 1 to 7. Let's go with a pitch of 7 pixels.
Number of Frames =  [ 500,000 pixels - 69376 (first frame)]/7 pixels/frame = 61,518 frames
How Many Scan Lines?
Again this will depend on any overlap between scan lines. Let's assume there is little overlap - we will assume that the line pitch is 90,868 pixels. If our panel is 610 mm tall then the number of scan lines needed is:
 610,000 / 90,868 = 6.7 = 7
So we need 7 scans to cover the board at a minimum.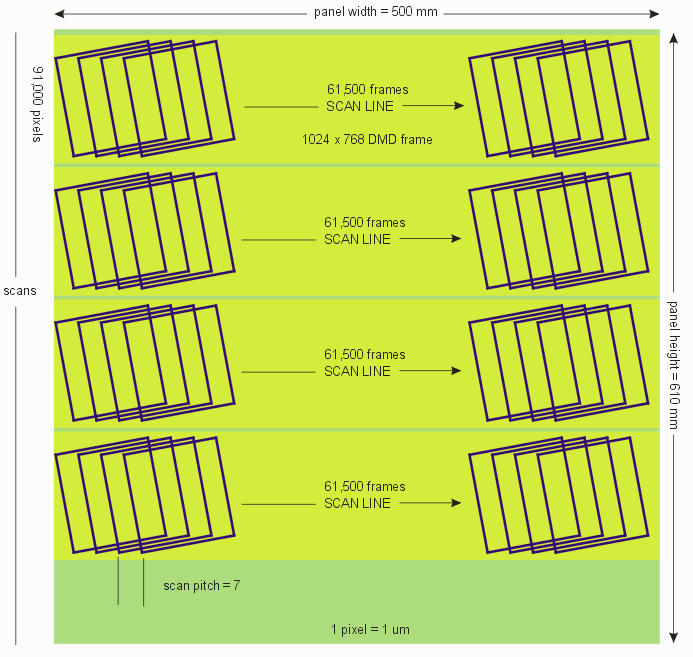 Time to Extract the Frame Data
Here is where the implication of all these calculations comes in. Basically one needs to load 5.7 GByte of bitmap data into memory and then compute 61,500 frames per scan line. This is a lot of bit shifting. Unfortunately our memory footprint is so large that the bits we need to access to compute each frame don't fit into the local CPU memory cache. This means it takes a lot more CPU cycles to do our computations.
A prototype program we wrote to do this kind of frame extraction seems to produce about 150 frames per second (XGVA) and even less if the DMD is an HD one since the larger frame size requires even more memory.
At that rate extracting the 61.5K frames for a single scan across the panel will take 410 seconds; 7 such scan lines will take a total of 47 minutes!
Since it only takes 3 to 5 minutes to produce the 37 GByte (before compression) bitmap for the panel we see that the frame extraction is a serious bottleneck if done on a conventional workstation.
How to Increase the DMD Frame Computation Rate
Our attempts at using a workstation CPU to convert from a regular bitmap into a series of rotated frames shows that this can be a serious bottleneck for large area, high resolution masks. Assuming this throughput is not acceptable one could build some dedicated hardware to greatly accelerate the process. However, designing and building such hardware in relatively low quantities is extremely expensive.
We decided to examine whether today's modern GPUs might be adapted to speeding up the process. An extremely powerful graphics GPU can be purchased these days for between $300 and $500.